Main content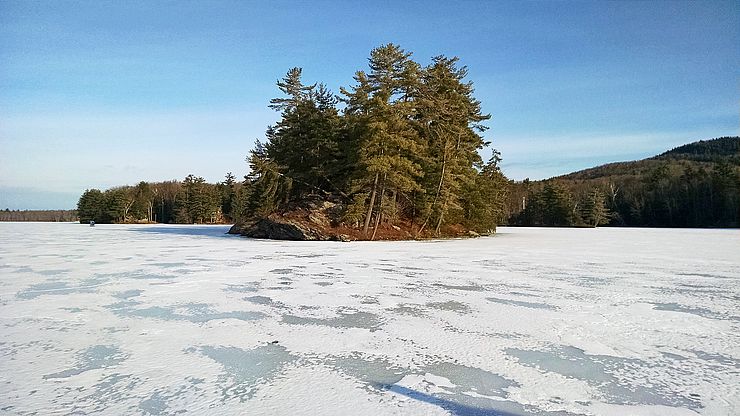 Some Notes on Freezing and Thawing
In the Spring, as the temperature of the air rises, the temperature of the surface of the ice also rises. When the water at the top surface of the ice reaches 4 degrees C., it becomes more dense and it sinks, mixing with the water under the ice. Warmer water rises ("mixing" occurs, or as we used to say, " The lake is working") with nutrients and material from the bottom of the lake. As the surface of the ice melts further, the entire sheet of ice reaches above 0 C, and the ice "suddenly" disappears ("ice out").
In the Fall, air temperatures fall, and water on the surface of the lake cools. When the water reaches 4 C. it sinks, and warmer water comes to the surface, to be cooled further. When the water at the surface finally reaches 0 degrees, it freezes. This may happen in smaller ponds often overnight while in larger water bodies, wind and wave action mix the water on the surface, making freezing slower and less sudden.
It is good that water is most dense at 4 degrees Celsius. If water were to be most dense at its freezing point, 0 degrees C., surface water would sink at 0 degrees, and lakes would freeze from the bottom up! We would then be swimming in water overlying a mass of ice, waiting for it to melt much later in the summer, if ever, and there would be no fish to catch, no osprey or fishermen to watch, but only a mist rising from the cold water into the summer air.
Special thanks to Betty Lantman who, for many years, tracked ice-out on Lake Iroquois and to her successors: Davey deGraffe, Chip Wright, and Jamie Carroll who continue to carry on Betty's legacy.
The ice-out challenge date and time mark when the pallet breaks through the ice and stops the challenge clock. Ice, though soft, may still be visible on the lake.
Ice-Out Challenge Dates by year

| 2021 | March 27 | 1:41 p.m. |
| --- | --- | --- |
| 2022 | April 2 | 5:18 a.m. |
| 2023 | April 7 | 1:58 p.m. |
The full ice-out date is when ice is no longer visible on the lake.
Ice out dates by year

| Year | Date |
| --- | --- |
| 1987 | April 9 |
| 1993 | April 17 |
| 1994 | April 24 |
| 1995 | March 27 |
| 1996 | April 7 |
| 1997 | April 10 |
| 1998 | April 8 |
| 1999 | April 4 |
| 2000 | March 9 |
| 2001 | April 24 |
| 2002 | April 1 |
| 2003 | April 17 |
| 2004 | April 15-16 |
| 2005 | April 10 |
| 2006 | April 1 |
| 2007 | April 27 |
| 2008 | April 12 |
| 2009 | April 2 |
| 2010 | April 2 |
| 2011 | April 16 |
| 2012 | March 17-18 |
| 2013 | April 7 |
| 2014 | April 19 |
| 2015 | April 19 |
| 2016 | March 17 |
| 2017 | April 10 |
| 2018 | April 24 |
| 2019 | April 17 |
| 2020 | April 1 |
| 2021 | March 28 |
| 2022 | April 4 |
| 2023 | April 10 |
Ice out dates by day and year

| Day | Years |
| --- | --- |
| March 9 | 2000 |
| Mach 17-18 | 2012, 2016 |
| March 28 | 2021 |
| April 1 | 2002, 2006, 2020 |
| April 2 | 2009, 2010 |
| April 3 | |
| April 4 | 1999, 2022 |
| April 5 | |
| April 6 | |
| April 7 | 1996, 2013 |
| April 8 | 1998 |
| April 9 | 1987 |
| April 10 | 1997, 2005, 2017, 2023 |
| April 11 | |
| April 12 | |
| April 13 | 2008 |
| April 14 | |
| April 15 | 2004 |
| April 16 | 2011 |
| April 17 | 1993, 2003, 2019 |
| April 18 | |
| April 19 | 2014, 2015 |
| April 20 | |
| April 21 | |
| April 22 | 1995 |
| April 23 | |
| April 24 | 1994, 2001, 2018 |
| April 25 | |
| April 26 | |
| April 27 | 2007 |